One year following the devastating storms of the 2017 hurricane season, individuals and communities in Houston, Florida and the Caribbean are still recovering. The catastrophic season caused more than $282 billion in damage, making it the costliest on record.
It was one of the most humbling months in our history. As an organization, we pulled together and helped each other in a myriad of different ways. As people, we took heart just how important the mission of air cargo is at its most basic level.
In the midst of the storms, there were some very valuable lessons learned. To build a clear path for the future, it's helpful to revisit just how big of an impact air cargo plays during these times of need, identify areas to grow, and put the right pieces in place for the future.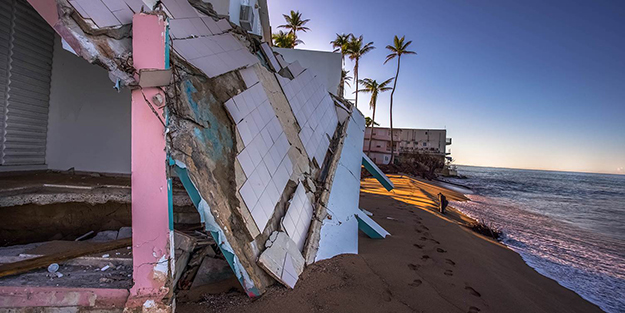 On September 22, 2017, everything changed for the island of Puerto Rico.


Ready to help
Because these devastating storms tend to impact islands the most, air cargo is often the only way to quickly and reliably transport food, first aid supplies, generators and other necessities. This is even true in coastal communities, as in the case of Hurricane Harvey in Houston, where flooding cut off highway access for ground relief.
Air carriers are able to quickly transport supplies to the hardest-hit areas from hubs, where rapid-response disaster and humanitarian relief organizations like the Red Cross and Team Rubicon work to pre-position supplies. In communities suddenly dealing with power outages, injured residents, flooding, limited drinking water or other challenges, these deliveries can make the difference between life and death.
There's no greater example of this than in Puerto Rico, which was devastated by Hurricane Maria on Sept. 20, 2017. More than 3 million residents were left without power in stifling heat while floodwaters rose in many cities and villages. Potable water and food were limited, prompting disaster relief organizations from the U.S. and other countries to quickly respond. And because ships take much longer than aircraft to reach their destinations, air cargo was the primary source of assistance.
In a letter to customers, our president Rick Elieson explained how our experiences earlier in the hurricane season helped us prepare for Maria. Following Hurricane Irma, we sent relief flights through SJU to assist those on the affected Caribbean islands like Barbados and the U.S. Virgin Islands. And when Hurricane Harvey caused unprecedented flooding in Houston, we helped move supplies to areas that were suddenly cut off to trucks.
By the time Maria formed, we were even better prepared.
"Our preparation in advance of the latest round of storms ... helped our recovery," he wrote. "We had pre-positioned a battalion of generators in Miami and Philadelphia, and we also sent satellite phones, water and dry goods to the islands before the storms hit. We added flights before each hurricane to help evacuate customers out of STX and SJU, and we added extra sections on widebody aircraft to get people out of the affected areas."
Once Maria made landfall over Puerto Rico, our first relief flight arrived just two days later with volunteers and relief in tow.

Evolving challenges
Although cargo carriers are often the first source of assistance following a natural disaster, providing help can be extremely challenging—and even dangerous. Flying into storm-ravaged areas presents a variety of challenges, ranging from incapacitated runways to flooded areas to high winds.
The 2017 storms also reinforced just how valuable our partnerships with freight forwarders truly are. Following Maria, American offered all American team members the chance to send relief packages to them at no cost under an internal program called Operation Puerto Rico Strong. But we were completely unprepared for what came next.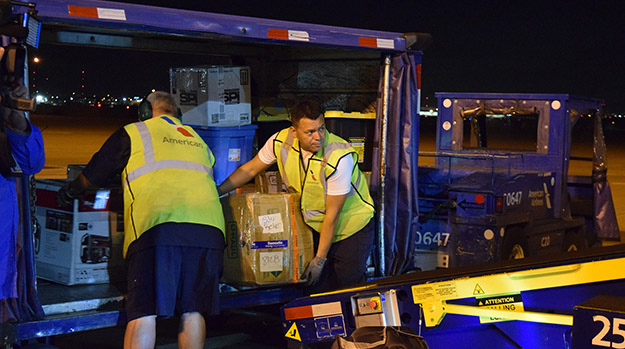 Following Hurricane Maria, American opened up its space to allow team members to ship generators and relief to families on the island.

Team members poured in and provided more than 4,500 shipments and 830,000 pounds to our cargo facilities in the span of a week. As Elieson said, we "drowned."
"We tried to open our space up and do something really good for our team members, many of whom had family on the island," Elieson said. "Without knowing just what we were getting ourselves into."
Between overloaded facilities, limited capacity availability and the devastated infrastructure on the island, we struggled to deliver aid as fast as it poured in. While the San Juan facility was in good shape following the storm, the warehouse simply wasn't large enough to house all the shipments.
Buoyed by the extra widebody flights we diverted to SJU following Maria — essential for moving massive amounts of relief — we moved more than 3 million pounds of relief to the islands following Irma and Maria.
It's critical for the air carrier and forwarders to have well-established relationships know how to work together quickly and efficiently, and prioritize communication. With relief supplies pouring in from around the country, forwarders are designed to keep things moving and managed with an expertise and scale that airlines must rely on to remain efficient and effective.
Another lesson learned from last year's hurricane season is about ruthless prioritization. Confronted with the need to get millions of pounds of relief to an island with limited storage capacity, we found ourselves in the position of prioritizing what to send first. With all types of donations coming in from across the country, we had to ask ourselves how we could make the very most of each supply run. Should the first delivery include food and water, or is it more important to provide generators and medical supplies?
The answer to these and other similar questions had to be made quickly and repeatedly, which is why partnerships with forwarders and relief groups like the Red Cross and Team Rubicon are vital for coordinating the most effective response possible.

Looking ahead
Hurricanes aren't the only disaster that prompts air cargo support. Other natural disasters like volcanoes and earthquakes, as well as disease epidemics and terrorism, are all potentially devastating events that require help from the aviation industry. In fact, the Global Humanitarian Overview predicts that 135 million people worldwide will require humanitarian assistance in 2018. In many situations, just like the aftermath of Hurricane Maria in Puerto Rico, the fastest way to deliver necessary supplies will be with air cargo.
Air carriers have a unique ability to offer lifesaving assistance by transporting supplies directly into the hardest-hit areas. Of course, these aid missions are not without challenges and danger. By working with relief organizations and partnering with reliable freight forwarders, carriers can respond to disasters quickly and nimbly, making a real impact in the lives of those affected by severe storms.
Like this article? Have feedback or questions? Let us know.