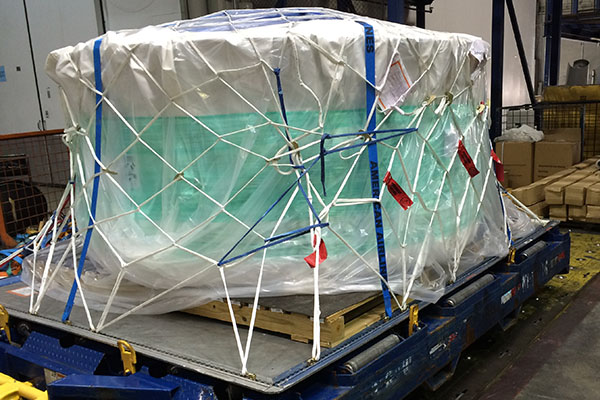 American Airlines Cargo recently moved two shipments of some very notable cargo: two sand tiger sharks and three bonnethead sharks for transport from the U.S. to South America.
The sand tiger sharks were flown from New York John F. Kennedy (JFK), while the bonnethead sharks flew from Miami International (MIA), all moving to Rio de Janeiro (GIG). All five sharks were headed to their new home at an aquarium in Nova Iguazu, Brazil via two different Boeing 777-200s.
American worked with Four Star Cargo to ensure the sharks arrived safely and on time.
The sharks presented a unique challenge that the American Airlines Cargo team was happy to take on. Marine animals can be particularly difficult to transport great distances. In order to ensure their health and safety, the sharks were housed in two special shipping tanks that weighed 4,850 pounds (2,200 kilos) and about 5,500 (2,500 kilos), respectively.
While bonnethead sharks are usually only about 3 to 4 feet (.9 to 1.2 meters) long, sand tiger sharks can range in size from 6.5 to more than 10 feet in length (2 to 3 meters). The American Airlines Cargo team worked with the forwarder to ensure the animals had enough space and oxygenated water throughout the shipping process.
Just before takeoff, the shark tanks were carefully sealed and oxygenated to ensure a safe and comfortable journey. After the tanks were sealed by the customer, the American team placed and strapped them securely onto PMC units, which ensure stability of the tanks during flight and handling. Once prepared, the tanks remained in the cargo facility until right before departure.
"Our priority was to make sure that the sharks were safe and, of course, arrived on time in Brazil," said Wayne Zimmerman, director of Cargo Operations – MIA. "Our teams coordinated closely with the customer and worked hard to ensure this unique shipment received all of the special care needed throughout its entire journey."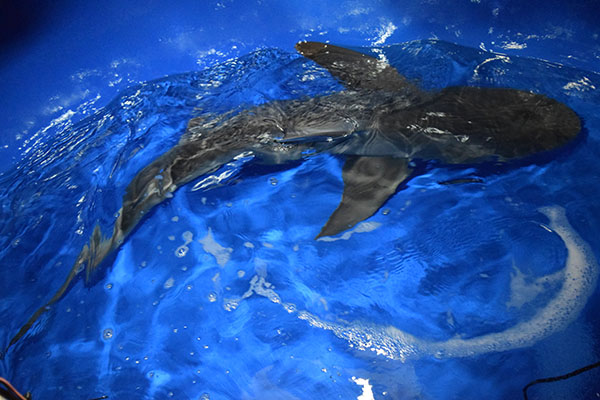 About American Airlines Group
American Airlines offers customers 6,800 daily flights to more than 365 destinations in 61 countries from its hubs in Charlotte, Chicago, Dallas-Fort Worth, Los Angeles, Miami, New York, Philadelphia, Phoenix and Washington, D.C. With a shared purpose of caring for people on life's journey, American's 130,000 global team members serve more than 200 million customers annually. Since 2013, American has invested more than $28 billion in its product and people and now flies the youngest fleet among U.S. network carriers, equipped with industry-leading high-speed Wi-Fi, lie-flat seats, and more inflight entertainment and access to power. American also has enhanced food and beverage options in the air and on the ground in its world-class Admirals Club and Flagship lounges. American was recently named a Five Star Global Airline by the Airline Passenger Experience Association and Airline of the Year by Air Transport World. American is a founding member of oneworld®, whose members serve 1,100 destinations in 180 countries and territories. Shares of American Airlines Group Inc. trade on Nasdaq under the ticker symbol AAL and the company's stock is included in the S&P 500. Learn more about what's happening at American by visiting news.aa.com and connect with American on Twitter @AmericanAir and at Facebook.com/AmericanAirlines.