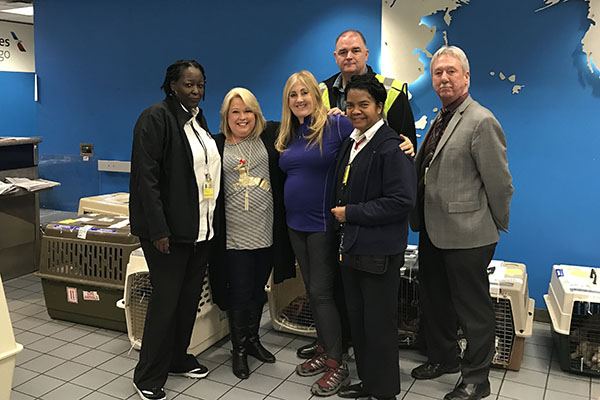 From Texas to the East Coast, dozens of dogs in need will be finding new homes this holiday season thanks to Society for Companion Animals, a Dallas-based non-profit, and the American Airlines Cargo team.
Society for Companion Animals transported a record-breaking 61 dogs in two days, each rescued from streets and shelters. The dogs flew to their forever homes via 19 American Airlines flights. Each pet, wearing a sweater of its own, traveled from DFW to New York (LGA), Philadelphia (PHL) and New Jersey (EWR).
"Our team puts in a lot of effort to ensure these animals receive the same level of attention and care a human passenger would," said Chuck O'Connell, manager – Cargo Services, DFW. "And it's all worth it knowing each will make it safely to a new home for the holidays."
The dogs were transported to their flights from the American Airlines Cargo Priority Parcel Service (PPS) Center at DFW.
"The customer service and care that American Airlines Cargo has for our rescue dogs is heartwarming," said Tawana Couch, president of Society for Companion Animals. "Every dog is treated exceedingly well and looked after during the process of traveling to his or her forever home. These rescue dogs really feel loved by the American Airlines Cargo workers who oversee their flights."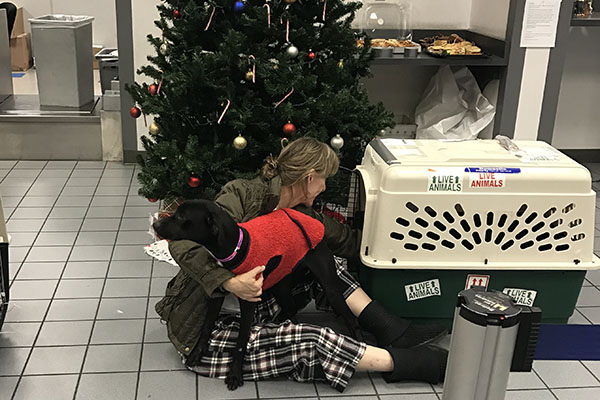 About American Airlines Group
American Airlines offers customers 6,800 daily flights to more than 365 destinations in 61 countries from its hubs in Charlotte, Chicago, Dallas-Fort Worth, Los Angeles, Miami, New York, Philadelphia, Phoenix and Washington, D.C. With a shared purpose of caring for people on life's journey, American's 130,000 global team members serve more than 200 million customers annually. Since 2013, American has invested more than $28 billion in its product and people and now flies the youngest fleet among U.S. network carriers, equipped with industry-leading high-speed Wi-Fi, lie-flat seats, and more inflight entertainment and access to power. American also has enhanced food and beverage options in the air and on the ground in its world-class Admirals Club and Flagship lounges. American was recently named a Five Star Global Airline by the Airline Passenger Experience Association and Airline of the Year by Air Transport World. American is a founding member of oneworld®, whose members serve 1,100 destinations in 180 countries and territories. Shares of American Airlines Group Inc. trade on Nasdaq under the ticker symbol AAL and the company's stock is included in the S&P 500. Learn more about what's happening at American by visiting news.aa.com and connect with American on Twitter @AmericanAir and at Facebook.com/AmericanAirlines.