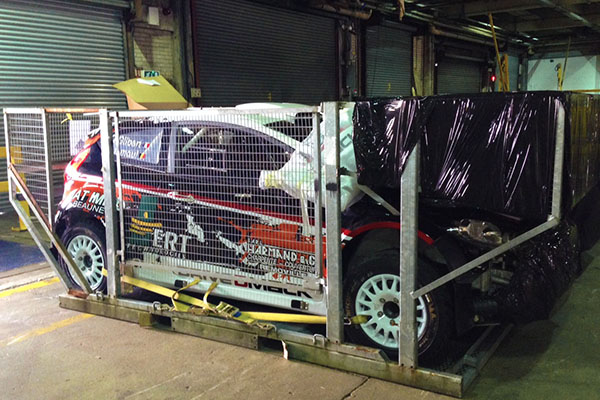 American Airlines Cargo today announced it has transported nine World Rally Cars and race equipment from London to Buenos Aires, Argentina, for this week's Rally Argentina.
Working alongside logistics companies Delivered on Time and White Knight Global Logistics, American transported the race cars from London Heathrow Airport (LHR) to Ezeiza International Airport (EZE) through its hubs in Miami (MIA), Dallas/Fort Worth (DFW) and New York Kennedy (JFK). Among the cars moved included the Ford Fiesta RS of M-Sport drivers Mikko Hirvonen, who currently sits fifth in the Fédération Internationale de l'Automobile (FIA) drivers' standings, and Elfyn Evans, who ranks seventh.
Each car was placed in a specialty metal cage that is designed to travel on lower deck aircraft. In total, each shipment weighed between 3,000 and 4,000 pounds.
"The cars are completely stripped down, removing bumpers and such, in order to reduce the size as much as possible, and then they're rebuilt at the rally site," said Michelle Brown, cargo sales specialist for American. "The measurements are so critical on these cars that we can only load in the door position of our B777 aircraft, as we have an extra inch or so allowance in that area."
American began moving the cars on April 29 and continued through May 1. The carrier's vast global network and frequency of flights allow each car to arrive in Buenos Aires in around 24 hours.
"This movement is planned several months ahead of time to ensure we can meet the strict time parameters," Brown said. "Transporting nine of these cars requires 18 separate flights to get them to Buenos Aires in time for the big race."
The Rally Argentina is a rally competition that forms round five of the 2014 FIA World Rally Championship. It runs May 8 through 11 in Córdoba Province.
About American Airlines Group
American Airlines offers customers 6,800 daily flights to more than 365 destinations in 61 countries from its hubs in Charlotte, Chicago, Dallas-Fort Worth, Los Angeles, Miami, New York, Philadelphia, Phoenix and Washington, D.C. With a shared purpose of caring for people on life's journey, American's 130,000 global team members serve more than 200 million customers annually. Since 2013, American has invested more than $28 billion in its product and people and now flies the youngest fleet among U.S. network carriers, equipped with industry-leading high-speed Wi-Fi, lie-flat seats, and more inflight entertainment and access to power. American also has enhanced food and beverage options in the air and on the ground in its world-class Admirals Club and Flagship lounges. American was recently named a Five Star Global Airline by the Airline Passenger Experience Association and Airline of the Year by Air Transport World. American is a founding member of oneworld®, whose members serve 1,100 destinations in 180 countries and territories. Shares of American Airlines Group Inc. trade on Nasdaq under the ticker symbol AAL and the company's stock is included in the S&P 500. Learn more about what's happening at American by visiting news.aa.com and connect with American on Twitter @AmericanAir and at Facebook.com/AmericanAirlines.