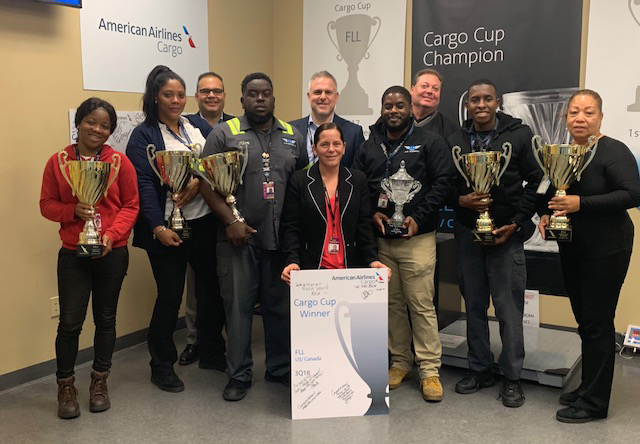 The American Airlines Cargo operations team in Fort Lauderdale, Florida (FLL) celebrates its most recent Cargo Cup victory.

There's a saying that I always heard growing up and I find myself saying to my own children – "tough times never last, but tough people do."
It's a basic sentiment that I carried with me throughout my childhood, and I learned firsthand that if you work hard and stick through difficult times, something good will come out of it, and you'll find yourself a tougher person in the process.
As you may well know, 2018 has been an incredible year for our operation at American. Our second quarter was the best we've ever had by moving nearly 350 million pounds of freight, and we set new Flown-As-Booked (FAB) records in June, August, September, October and November.
Our operations team has been remarkable. On top of simply having terrific team members and leaders, I believe we can attribute a lot of the success to the strenuous demand that's been placed on our team over the past few years.
It's no secret that since 2001, things have been challenging for American Airlines. From bankruptcies to mergers and natural disasters, our team has undergone some incredibly demanding times. But even during those difficult times, cargo still needed to be built, loaded and moved every single day. Our team pulled together to make sure cargo shipments got to where they needed to be, regardless of circumstances.
Now that we are almost five years post-merger, we have been able to invest in technology and equipment for our facilities. Over the past few years, we:
Built cooler facilities in major hubs and around our network, including a 25,000-square-foot dedicated temperature controlled facility in Philadelphia
Installed material handling systems that move customer-loaded shipments through our facilities
Upgraded facilities, purchased new equipment, added dock doors in key locations and invested in our frontline team members
Made our largest investment in technology to date to streamline our systems and operations for a better customer experience
Not only have we invested resources into our team, but we've made it a little more fun along the way.
We created and implemented a Cargo Cup competition. This quarterly competition between all of our stations encourages friendly competition to claim ownership as the best station, by region and hub, in our network. And because competition breeds success, it's something our operations team and ground handling partners have really embraced. They appreciate that we continue to push each other to be better, and it's made the entire Cargo operation stronger.
Having an actual trophy to be displayed at each station really gives every person on our team something to strive for. That competitive mindset has really taken hold throughout our organization, and you can feel it when you walk into any of our facilities.
We have persevered and are excited about the investments we're making to support our teams, who in turn are on the front lines supporting our customers. They certainly deserve it. They've been through tough times, and have come out on top. Now our tough operations team is ready to take on whatever comes next to deliver the best service for our Cargo customers.
Like this article? Have feedback or questions? Let us know.
---
About the Author
David Vance is the Vice President of Cargo Operations for American Airlines. Vance is responsible for all day to day freight and mail operations of the new American network including warehouse operations, facility management and regulatory compliance.