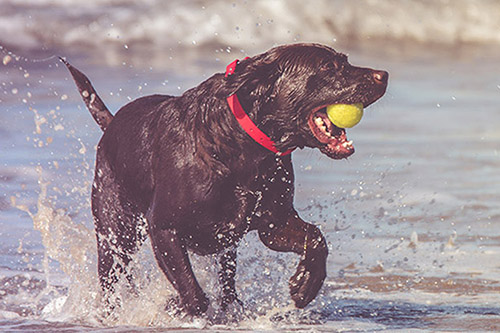 Prioritizing Your Pet's Safety
As we approach the summer months, let's take a moment to reiterate two of our most important safety measures—our temperature policy and our breed verification policy.
The magic number is 85°
Let's start with our 45°F to 85°F safe temperature range that we allow pets to travel within. We will not accept any warm-blooded pets that request to travel from, to or through any airport with ground temperatures forecasted to be higher than 85°F.
We will always prioritize your pet's safety when they fly with us, and temperatures higher than 85°F are simply not safe for a pet to travel with us. We will not entertain any exceptions.
If there is a change in temperature that is outside of our safe range prior to travel, we have a 24/7 Animal Help Desk that will contact you to rebook or delay your pet's travel itinerary. If we find that temperatures become unsafe during travel, we'll take your pet to a local kenneling facility—at no charge—for a comfort stop to play, eat and sleep until temperatures return to a safe range.
We're embargoing some of the hottest cities in the U.S.
Weather is anything but predictable, but we do know that some cities are too hot to transport pets from, to or through during the summer months. That's why we're embargoing all warm-blooded pet shipments from, to or through these stations from May 1 through Sept. 30.
Las Vegas, Nevada (LAS)
Phoenix, Arizona (PHX)
Palm Springs, California (PSP)
Tucson, Arizona (TUS)
An extra step to protect snub-nosed pets
Because of the risks associated with their hereditary respiratory issues, we don't allow snub-nosed—or brachycephalic—breeds of dogs and cats to fly. You can find a full list of our restricted dog and cat breeds here.
We require a signed breed verification form at check-in for every pet that flies on American. It's an extra step, but it's one that helps us ensure a snub-nosed dog or cat isn't put into a dangerous situation.
Caring for your pets along their journey
When your pet travels American, you can rest assured knowing they are in the good, caring hands of our compassionate team members. Because your pet deserves a first-class experience, we choose safety over convenience.