July 29, 2016

American Airlines Cargo has safely delivered over 65 tons of high-tech broadcast equipment and athletic gear to Rio de Janeiro in Brazil for the upcoming competitions.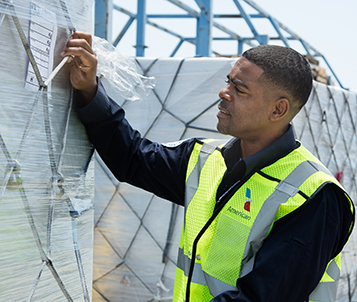 Broadcasting equipment was shipped out of Japan and London to Rio for high-resolution filming at the sporting festival. One of the largest shipments of this kind moved over a three-week period to Rio's Galeão International (GIG) via two American Airlines gateway hubs, Los Angeles (LAX) and Miami (MIA). Fourteen different movements made up this particular consignment, which travelled in the bellies of American's widebody aircraft.
A variety of other unique shipments also traveled across the American Airlines network to Brazil, including sporting goods out of Australia, jerseys from the U.S., and promotional items and athletic training equipment from different locations worldwide.
"We were delighted to be entrusted with the safe transportation of a national broadcaster's equipment and other important items for such a significant event," says American's managing director of Cargo Sales – Asia, Keijiro Ishii, who is based in Tokyo. "Our teams in locations all over the world worked closely together to ensure the safe and timely arrival of all elements involved. It's great to hear that everything is ready to go and we look forward to watching the crystal clear results being beamed from Brazil."
All shipments were successfully transported and provided expert Customs clearance by the official logistics provider as needed, then safely delivered to different venues and stadiums around Rio.
American will also be working with customers and partners to ensure the various goods and equipment are shipped back home after the competitions come to an end.
American Airlines Group is the holding company for American Airlines. American provides one of the largest cargo networks in the world with cargo terminals and interline connections across the globe.
Every day, American transports cargo between major cities in the United States, Europe, Canada, Mexico, the Caribbean, Latin America and Asia. Together with wholly owned and third-party regional carriers operating as American Eagle, the airlines operate an average of approximately 6,700 flights per day to nearly 350 destinations in over 50 countries from its hubs in Charlotte, Chicago, Dallas/Fort Worth, Los Angeles, Miami, New York, Philadelphia, Phoenix and Washington DC.
This year, American Airlines Group Inc. topped Fortune Magazine's list of best business turnarounds and its stock joined the S&P 500 index. Connect with American on Twitter @AmericanAir and at Facebook.com/AmericanAirlines.