July 13, 2015
LONDON: In order to better serve its rapidly growing international network, American Airlines Cargo has appointed Richard Hartmann to the newly created position of regional sales manager – Cargo, South Asia, Middle East and Africa. In his new role, Hartmann will be in charge of both sales development in the existing countries served by the carrier in the region and also extending the airline's reach into new territories such as Africa.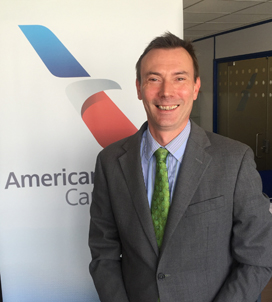 Hartmann will be responsible for the mature markets American already serves, such as Italy and Scandinavia as well as emerging markets that include India and the Middle East. In addition, he will use his extensive international experience to develop the airline's services to and from offline markets, most notably across Africa. Israel and Eastern Europe will also come under his remit.
Hartmann has more than 30 years of experience in the air cargo industry in both the airline and freight forwarding sectors, including working in Africa. He joined Cargo in 2011 as a global key account manager and believes there is tremendous scope for development of its services across his new region.
"Our business is changing all the time, particularly with the advent of new aircraft on many routes, so there's tremendous potential for growth of our cargo services, with Italy being the prime example in southern Europe. There is also a real window of opportunity for us in many offline markets where I will be focusing attention on extending our business reach to many more forwarders," says Hartmann.
He will report directly to the managing director of sales – Cargo, Europe, Middle East and Africa, Tristan Koch, who says, "Richard's new role is vital to our development in these new markets; his depth of knowledge and experience will be invaluable as we grow the business across his region."
American Airlines Group is the holding company for American Airlines. American provides one of the largest cargo networks in the world with cargo terminals and interline connections across the globe.
Every day, American transports cargo between major cities in the United States, Europe, Canada, Mexico, the Caribbean, Latin America and Asia. Together with wholly owned and third-party regional carriers operating as American Eagle, the airlines operate an average of approximately 6,700 flights per day to nearly 350 destinations in over 50 countries from its hubs in Charlotte, Chicago, Dallas/Fort Worth, Los Angeles, Miami, New York, Philadelphia, Phoenix and Washington DC.
This year, American Airlines Group Inc. topped Fortune Magazine's list of best business turnarounds and its stock joined the S&P 500 index. Connect with American on Twitter @AmericanAir and at Facebook.com/AmericanAirlines.