June 12, 2018
The win comes as Milan cargo operation gets set to expand into new facility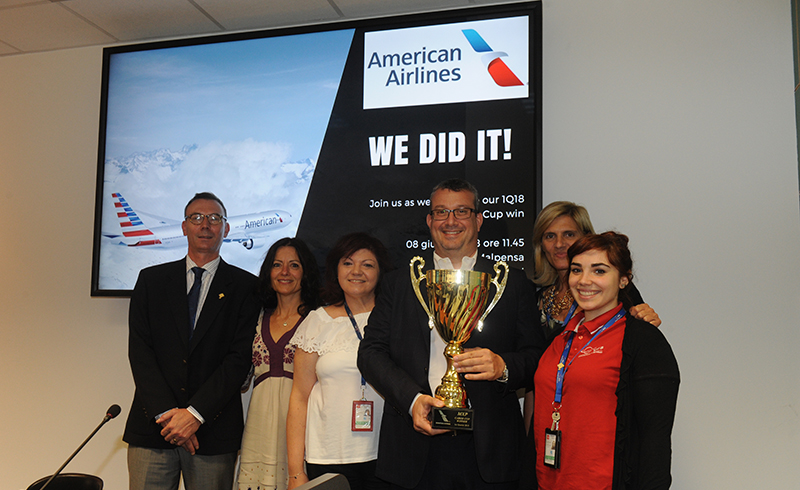 Pictured with the cup L-R are: Richard Hartmann (Regional Sales Manager for South Asia, Middle East, Africa and Southern Europe), Donatella Carnelli (Sales Manager AES Italy representing AA Cargo) Laura Cattaneo, (Cargo Operation Supervisor), Marcello Cortesi (Operations Director WFS – Italia), Emanuela Francone (CFO WFS) and Michela Grasso (Cargo Agent WFS).

The American Airlines Cargo and Customer teams in Milan, Italy have both won the company's Cargo and Customer Cups for the first quarter of 2018. Earlier this month, the airline celebrated a decade of service between New York (JFK) and Milan, and then in August this year, its cargo operation will expand into a new 54,000-square-foot (5,000-square-meter) facility at Malpensa Airport (MXP).
In a ceremony at the airport, teams from both sides of the airline's business were rewarded for meeting and exceeding targets set by the company. For the customer team, which is responsible for passengers flying with American, operational performance, such as on-time departure and baggage service, customer feedback and overall customer experience scores put them ahead of other international stations within American's global network. On the cargo side of the business, exceptional loading, unloading, scanning and specialty product performance all helped to deliver the victory.
Presenting the trophies were Richard Muise, director of European Operations (Customer) and Richard Hartmann, regional sales manager for South Asia, Middle East, Africa and Southern Europe (Cargo).
"Winning the Customer Cup is no small feat. It's a testament to your continued dedication to our customers, to running a great airline and doing a stellar job of representing American in Milan," said Richard Muise.
Hartmann adds, "The fact that both our Cargo and Customer teams won these awards at the same time is a tremendous showcase of how well the two sides of our business work hand-in-hand, while delivering great service to all of our customers."
American Airlines Cargo will open the new, expanded WFS cargo facility at MXP and move all its on-airport operations to that location in early August.