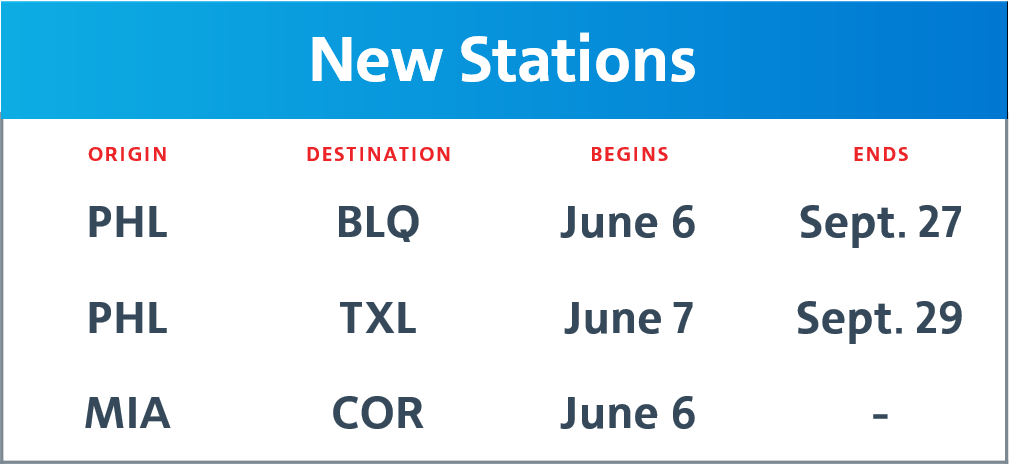 It's summertime, and that means more widebody routes around the world for our customers. We're doing our part to make shipping easier for you, and we're confident our new stations and routes will help you connect cargo traffic between Europe, the U.S. and Latin America.
We're proudly offering two widebody service options to Munich from both Charlotte and Dallas/Fort Worth. Our year-round Airbus A330-200 service from Charlotte is the station's first international long-haul flight since 2014, while the DFW seasonal flight operates on a Boeing 787-800 through Oct. 26.
We're also excited to offer the only nonstop service to heart of Italy from North America. Our Bologna service from Philadelphia will operate on a Boeing 767-300 aircraft well-equipped to move automotive and heavy machinery parts. Philadelphia will also offer 767-300 service to Berlin, giving customers a third widebody offering into Germany on American metal.
The addition of Cordoba, Argentina to our Latin American network helps us better connect the industries that rely on quick cargo service. Overall, these new routes add to our more than 430 weekly widebody offerings to Europe and 122 weekly widebody offerings to Latin America.
These new stations and routes are the next step in the evolution of growing the most extensive network in the world.